New at eanaliza.pl!
Jan 5, 2023
Responding to numerous queries from our users, we have extended the eanaliza.pl system to include support for the calculation variant of the income statement. These changes apply to all packages, including the test package, where it is possible to try out our system completely free of charge. The new variant of the P&L is available for each of the data entry methods (except for the Demo Version), i.e.:
for e-reports downloaded from the eKRS system, for other and small entities,
for data downloaded through the API of the 360 Accountancy system,
for reports in the form of *.xls and *.pdf files generated from the 360 Accountancy, Sage Symfonia and Comarch Optima systems,
for data import templates in *.xls format made available in our system,
for manually entered data.
For reports in the form of input files, the correct report variant is recognised automatically, while for manually entered data we have added the possibility to change the report variant when completing the data. The default variant remains the comparative variant on which previous analyses were based.

Note: Due to the differences between the comparative and imputed variants of the P&L, it is not possible to combine reports based on different variants within the same analysis - this applies to the Extend function, which allows the addition of further periods to the previously performed analysis.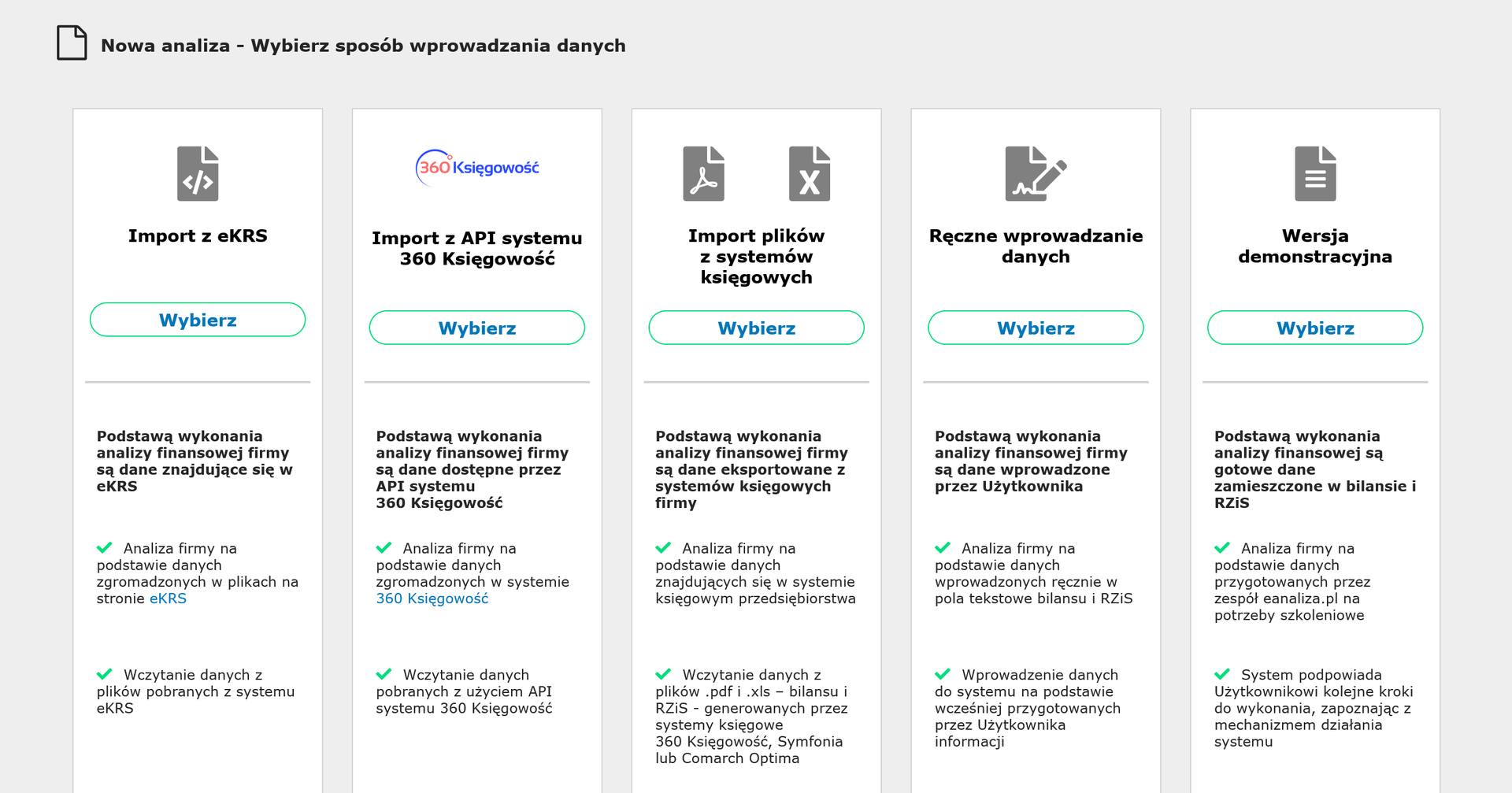 Please note that in the Analyst package, for analyses based on the calculation variant of the P&L, the E. Mączyńska model and the D. Beneish model are not available. The range of indicators available in this package, for analysis based on the calculation variant of the P&L, can be viewed here.
Similar articles
Another new feature at eanaliza.pl !
Jul 12, 2022
Thanks to our cooperation with the authors of 360 Księgowość system, our users can now perform financial analysis based on the data exported from this accounting system. How it works? The...
New at eanaliza.pl!
May 5, 2022
It's today! In response to our users' needs, we introduced another functionality extending the scope of the Expert and Analyst packages – Competition analysis. The competition analysis makes it possible to...
Update of sector indicators
Apr 9, 2022
The database of the eanaliza.pl system has been updated on April 9, 2022, with the data related to the industry indicators obtained from the wskaznikibranzowe.pl service. The calculated industry...